Australian game developers are struggling against poor pay, a lack of job security, and limited opportunities, according to survey data compiled and released by Game Workers Unite Australia ahead of Melbourne International Games Week 2018.
155 developers have completed the survey so far, painting a dismal picture of income and working conditions.
Infographic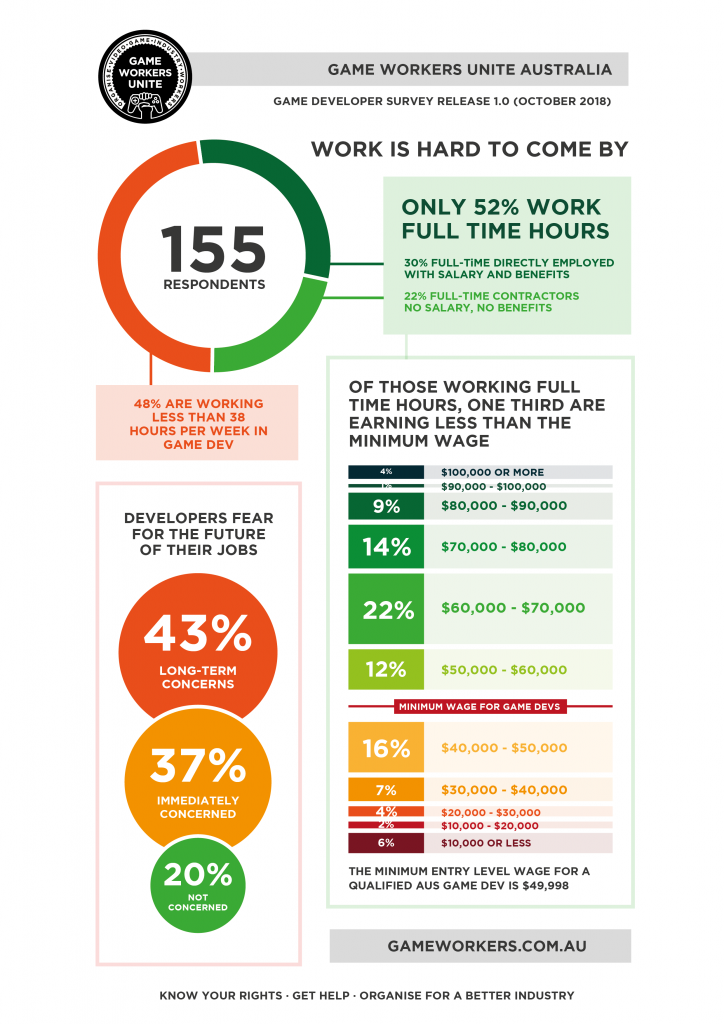 Key takeaways
INCOME, JOB SECURITY TOP CONCERNS
Asked to rank their major issues with the industry, an incredible 82% of game developers flagged income as their biggest concern, followed by job security at 77%.
FULL-TIME JOBS REMAIN RARE
Only 30% of game developers surveyed were able to secure full-time, permanent, salaried employment. The rest are a mix of full-time contractors, part-timers and struggling freelancers.
ONE IN THREE AUSTRALIAN GAME DEVS EARN LESS THAN MINIMUM WAGE
35% of game developers working full time hours in Australia are are earning less than $50,000 per year. A qualified game developer in Australia is entitled to an absolute legal minimum of $49,998 per year, normally more. For many people, this is clearly not happening.
GAME DEVELOPERS ARE LIVING IN FEAR
Only 20% of game developers surveyed said that they had no concerns about the stability of their work. A further 43% admitted to having long-term concerns, while the remaining 37% were immediately worried.
THE INDUSTRY PUSHES PEOPLE AWAY
A full 70% of game developers surveyed had only been in the industry for up to 5 years. Some developers managed to break the 5-year mark, but only a handful made it up to 10 or more.
Employees are suffering
It's absolutely clear that the game development industry has failed to look after its employees. The industry continues to survive on a myth of being a "dream job" that requires "passion and commitment", while offering many people less than minimum wage and burning them out after only a few short years.
The time has come for Australia's game developers to start pushing back. Whether you've managed to land direct employment, or whether you're contracting from month to month and trying to make ends meet, you need transparency and job security if you're going to make your life better. The only way to do that is to stand together and unionise.
Although we might often be told otherwise, the games industry is not unique. Games workers are facing the same problems that creative industries like TV and video production have faced in the past all across the world, and the solution is the same: working together and insisting on fair pay and fair standards.
GWU Australia will continue running the survey, and periodically release data as more people continued to respond.