Today Game Workers Unite Australia released the second round of results from their Games Industry Survey, now running for its second year.
The survey canvassed 258 different developers across the Australian games industry. Based on these answers, many of Australia's game developers continue to be underpaid and deeply concerned about the future of the industry.
GWU Australia's game developer wage guide clearly shows the minimum annual salary for a directly employed game developer is $51,498. 1 in 5 direct employees surveyed are earning below this minimum wage, despite working a full 38-hour week.
Employment contracts recently reviewed by our staff show that many companies in Australia are still offering wages below this level. This is unlawful, exploitative, and must be stopped.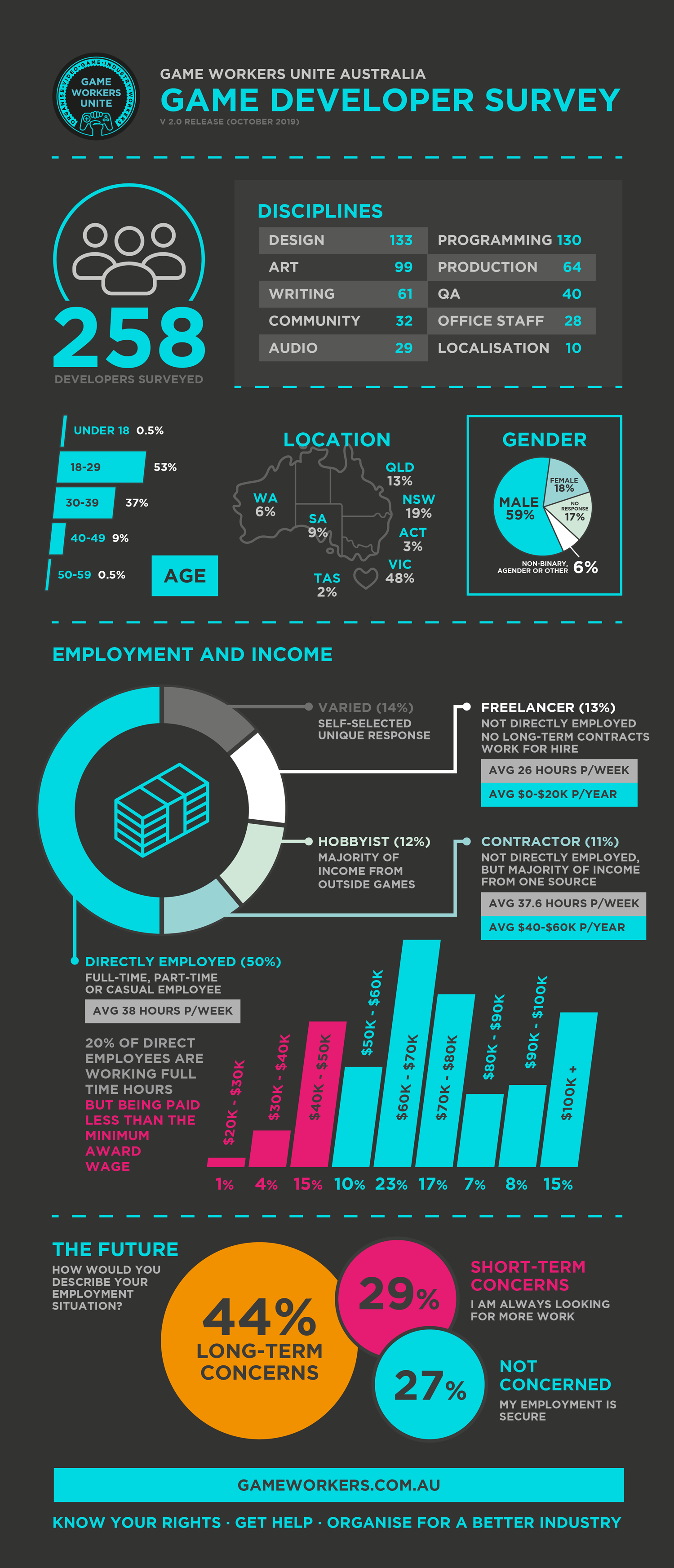 Game developers surveyed were overwhelmingly only in the industry for 0-5 years. Only a minority of respondents made it past 5 years, with even fewer than that making it to 10 years or more.
Additionally, 73% of respondents expressed concerns about the future of the industry, with many saying they were immediately afraid about losing their job and are always on the lookout for more work.
It is clear more must be done to build the industry into a place that welcomes, sustains and embraces people. By organising together and bargaining collectively, game developers can lift their wages and create workplaces that encourage growth and stability.
Transparency in wages and conditions is the only way to bring about the collective change necessary for the better industry we all deserve. Join Game Workers Unite Australia as we build a movement to change things for the better.
Anyone who wishes to examine an anonymised version of the survey summary can do so by visiting this link.
GWU Australia will be active throughout Melbourne International Games Week 2019, promoting the growing movement of unionised game workers who want to stand together and build a better industry.