Game Workers Australia is Australia's first union for game workers, and is powered by the union for software developers and information technology workers, Professionals Australia.
Our mission is to build a better games industry by supporting and empowering workers to know their rights, bargain collectively, and put an end to abuse and exploitation of all kinds.
We support not only game developers, but game journalists, people in PR or marketing for games, streamers and content creators, professional players, students, and anybody in the games industry.
And hey, if you're reading this – we need your help. Find out how you can get involved.
From GWU to GWA
From 2018 – 2021, we were known as Game Workers Unite Australia, the local arm of the international Game Workers Unite movement. We are still affiliated with the international GWU movement and meet regularly with elected representatives to coordinate activities.
In 2022, GWU Australia re-launched as Game Workers Australia as part of a partnership with Professionals Australia. Read more about that in our announcement.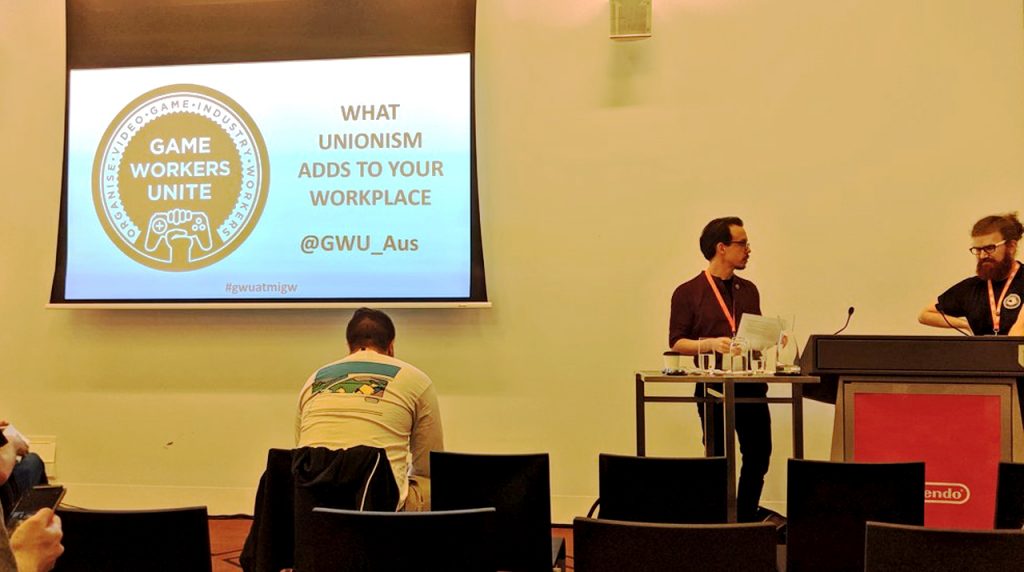 Community Officers
The Game Workers Australia Community is organised by volunteer officers who donate their spare time on an unpaid basis.
These volunteers are democratically elected to the role by members of the organisation.
The most recent elections were held in February 2022 and the currently elected officials are:
Convenor (Jointly Held Position)
Community Organisers:
International Delegate:
Formal Governance & Structure
Game Workers Australia is a part of Professionals Australia, the registered Australian union for software developers, scientists, engineers, architects, pharmacists, translators and interpreters, and many other industries.
Fee-paying members of Game Workers Australia are members of Professionals Australia.
Within Professionals Australia, Game Workers Australia is located within the Managers and Professionals Division (MPD) of the union.
Games Workers Australia governance is undertaken by the democratically elected MPD Committee, made up of Professionals Australia members around the country.
Any fee-paying member of Professionals Australia who is part of the MPD may nominate for election to that committee. This process is democratic, transparent and undertaken by the Australian Electoral Commission in accordance with the relevant legislation.
Professionals Australia, and the GWA Community
Any game worker may join the Game Workers Australia Community Discord Server for free, to be part of the discussion, learn from their colleagues, and share their experience.
However, joining the GWA Community Discord Server does not automatically make you a member of Professionals Australia.
The Registered Organisations Act 2009 and the Professionals Australia organisation rules require that fees must be paid to become a member of the union.
Privacy Policy
As part of our mission to build a better games industry, we do collect a small amount of personal information.
Click here to read our privacy policy and learn how we handle that information.